An early conference panel Web site that I built with Laura Mandell for the session on "The Canon and the Web: Reconfiguring Romanticism in the Information Age" at the MLA convention in Washington D. C., 29 December 1996. In his paper titled "Distant Mirrors and the LAMP" at the MLA convention in 2013, Matthew G. Kirschenbaum has discussed this site as an early "distant mirror" of the later web in its attempt to "situate the session amid a thick contextual network," its "clear desire for interactivity, as expressed through the live email links and the injunction to initiate correspondence," and its "curatorial sensibility."
Date of site: 26 March 1996.
Date of event: 29 December 1996.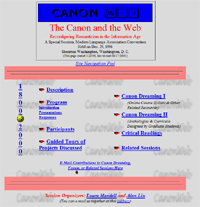 Go to site